Whether you are going to redesign your website or create one from scratch, you should always ask yourself the question: are you going to use custom development or a standard CMS? If you want to know which is the best option, don't stop reading.
When it comes to starting a new web development project, there are a few things to take into account to determine whether you should be doing it with custom development or whether you can get by using a standard CMS . Practical issues to consider are business, marketing, system requirements, and more. Once you've understood your needs, it's time to decide if you should upgrade to a custom system or are you more incline to use a pre-configure system using a standard CMS. Therefore, it is very important to understand what are the advantages and disadvantages of each of these options.
Custom website and standard CMS
Standard CMS is previously develop software with a predefine interface and some basic functionality. These CMSs tend to allow a certain degree of personalization for the user in order to tailor it to their needs. However, there are more significant limitations.
A custom CMS is one that is essentially built from scratch. We say "in essence" here because they are usually built using open source frameworks (code libraries) that other professionals have create for others to use and optimize their turnaround time. Thus, the developer can create his own website that is 100% tailor to the basic needs of each client.
Which is better: a custom website or a standard CMS?
One of the questions our clients usually ask us when we present these options to our clients is: which is better? The point is that in the case of WAM, we always choose custom development because it offers great flexibility and is a scalable model; however, in some cases, a standard CMS may be a suitable solution.
Anyway, so that you can define it for yourself, here's what it entails if you choose one or the other.
Price
One of the main concerns of every buyer is price. It is true that custom designs cost more. However, over time, they become more profitable. Why? These designs are focus on specific business needs, which means a higher return on investment, and because they are customizable, they are more durable, flexible and scalable when it comes to expanding and improving the platform. If we want to save time and move to an off-the-shelf CMS, we may have different needs over time as the business grows.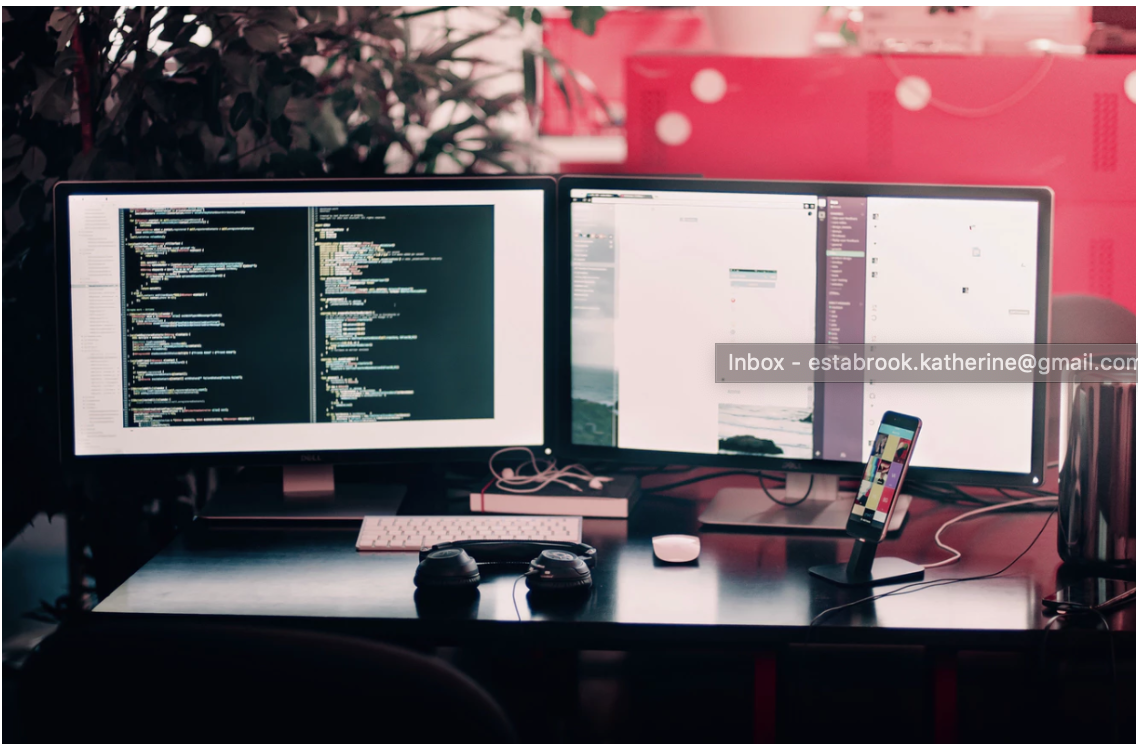 Development time
In this regard, developing a standard CMS, we save a lot of time, since we have a lot of plugins that allow us to quickly add them to our project. The fact that we can use predefine templates allows us to reduce the time it takes to develop them. On the other hand, custom development projects require upfront work to achieve the ideal structure and optimize design for the target audience in their industry. This process can increase the time it takes to develop a project.
ROI and conversion
As we delve deeper into ROI, industry professionals who specialize in custom web development experience a higher ROI than development projects create using standard templates. The motive is simple: When a website is design with business goals and target audiences in mind, conversions and sales increase .
User experience
The image plays a visual role when it comes to attracting users and increasing sales. It makes sense that custom development gives you more options to make your website visually appealing, easy to use, and effective when it comes to creating a satisfying user experience . Ultimately, we can anticipate user expectations and, for example, tailor the buying process to suit their needs.
SEO positioning
Another reason for moving to a custom web is that it promotes better SEO positioning in search engines as it is built from scratch and all development is base on the preferences of the major search engines . We often forget that web development and SEO go hand in hand.
Scalability
Only you know which path your business will take, and you need a website that will keep up with the times. Custom websites are highly scalable and you can get wherever you want ; it only depends on you and your developer. However, standard CMS systems have many more limitations, and you may be surprise that the software you choose does not allow you to make the improvements you need for your business, and when those improvements can be made, the cost is much higher than it would have been. were individually design.
Clean code
This is something that is often not part of the criteria because it is not visible, but having clean code (code that is easy to understand and change) can make many things easier for you in the future. And that's because when you want to make changes to your website or touch it, if the developer can't decipher the source code, you have nothing to do. In this sense, custom development uses clean code with the functionality the client needs. In contrast, standard CMSs install a lot of unnecessary code that degrades performance and can cause hard-to-find bugs.
Plugins and third party extensions
Customize web development solutions use third party libraries that must adapt to the client's requirements. The plugins use in a standard CMS depend on the companies that develop them, which means there is a great deal of dependence on the company to release security updates that will ensure that they cannot hack our website.
Security
A custom website has higher security guarantees in the face of possible cyberattacks, since generating custom code is less accessible to hackers. It is also up to you to enable all levels of security to protect your content and customer data. In turn, in a custom CMS, this aspect is in the hands of the firm that develop the plugin software, and they don't always publish all the necessary or available measures.
Performance
Website performance improves user experience and usability; that's why this is another important aspect to Website performance improves user experience and usability, so this is another important aspect to take into account. When developing custom websites, we get the best results because we only use code that meets the requirements of the project. In a standard CMS, as I said before, the code is less clean and negatively affects the performance of the site.
Third party integration
Leading CMS systems have integrate software develop in them that allows any data store in these external systems to be transfer to your CMS whenever the API allows it. On the other hand, in custom web development, they tend to develop personalize, tailor integration systems and adapt them to the appropriate API that binds the require data and ensures the most optimal communication between platforms. In both cases, we will need a programmer with experience in CMS technology in order to properly implement the integrations.
Comparison of CMS
When it comes to finding the best technology solution for our clients' websites, we conduct an in-depth analysis that evaluates the various CMS systems on the market. Here are four that we find the most popular or interesting: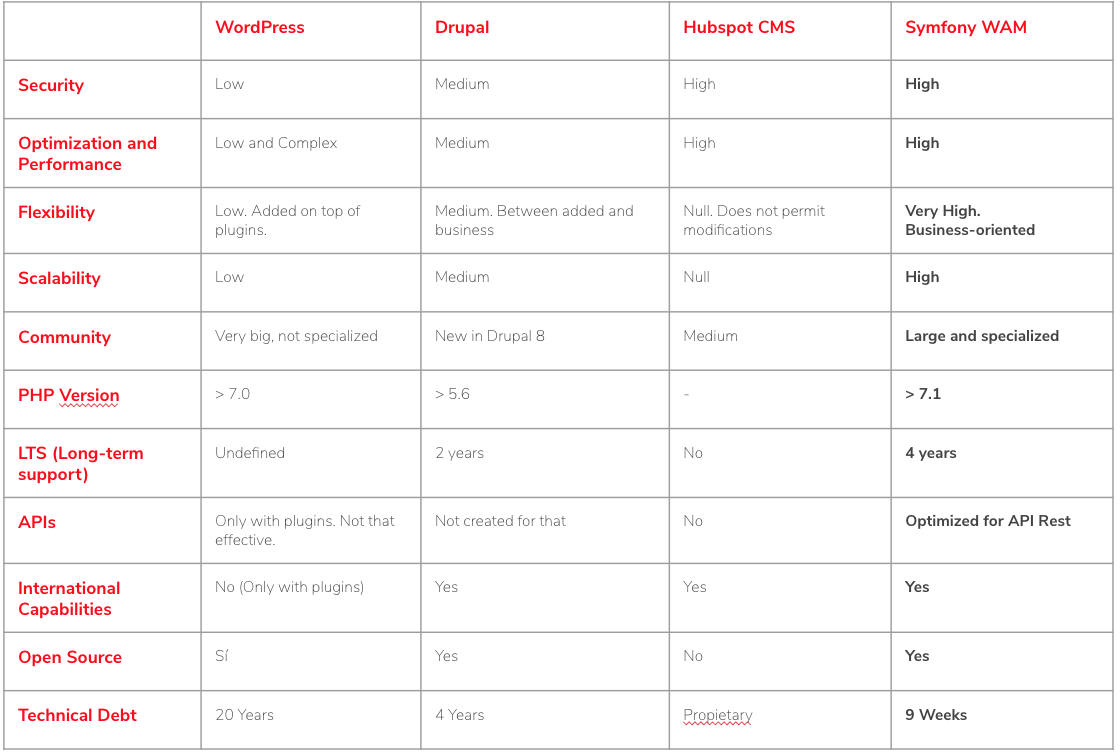 As far as WAM is concerne, the best solution is Symfony, a PHP framework that allows you to create websites and applications quickly. The use of this type of technology, although not mandatory, helps to improve (structuring) and accelerate (reuse of generic modules). Thus, Symfony allows the development of integrate content through additional and separate blocks and allows us to create the structure of a web project in an incredibly simple, fast and fully customizable way.
How to make a decision?
While the custom CMS option is much more interesting, it doesn't have to be a solution for everyone. If your requirements, for example, are small, and the budget and time frame are limit, you may want to choose the more standard option. However, if this is not the case, you should no doubt go ahead and develop custom development .
Bottom line: Custom development will allow you to create a manageable website that adapts to your needs and helps you sell more and better position yourself. Not only this; you will be able to grow and develop with it, while having security guarantees. Despite all the possibilities, it's worth it.