In the realm of the art of luxury living, where elegance and craftsmanship reign supreme, Bentley Home has carved its own unique niche. Combining traditional manufacturing culture, innovation, and the highest quality standards, Bentley Home offers a collection of exquisite furnishings that bring the essence of Bentley's design vision into your home. This blog explores the world of Bentley Home, its partnerships, materials, collections, and the seamless blend of artistry and functionality that defines its products.
Partnerships:
Bentley Home is not just about furniture; it's a partnership between Bentley's design team and the Luxury Living Group. This collaboration has given birth to a remarkable collection of pieces that reflect Bentley's design philosophy. From sofas to coffee tables, every item embodies the essence of Bentley's unique design vision. What's new and exciting is that the range now includes an outdoor collection, allowing you to enjoy Bentley's sleek lines and exquisite materials both inside and outside your home.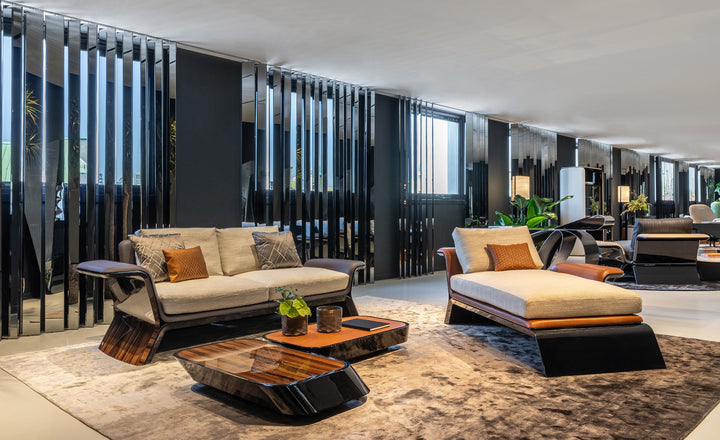 Great Minds Pursue Alike:
When Bentley collaborates with world-renowned designers, it's not merely a meeting of minds; it's the fusion of creativity and innovation. The 2023 collection showcases the substance and elegance of Bentley Home Design in collaboration with leading designers known for their talent and innovative use of sustainable materials. Each piece seamlessly blends practicality with contemporary design, making them perfect additions to any home.
Materials That Matter:
Bentley Home has joined forces with Federico Peri to create a new table series, including a coffee table. What sets these tables apart is the use of materials like Paper Marble finish by Paper Factor. Architect Riccardo Cavaciocchi, the founder of Paper Factor, has harnessed traditional techniques to create tabletop finishes that mimic the look and feel of marble but are crafted using 'raw paper' and natural pigments. This aligns with Bentley's focus on sustainability, expert craftsmanship, and materiality.
The Solstice Collection Bentley Home the art of luxury living:
For the first time, Bentley Home introduces an outdoor collection called Solstice, allowing you to enjoy luxury in the open air. This collection includes an elegant sofa, armchair, and pouf in a range of fabrics, including sustainable options like Colwyn hemp and MARM \ MORE® fabric, made from waste marble powder. The collection also features coffee and side tables with polished marble tops and a sleek sunbed. Each piece in the Solstice collection showcases the stunning super-mirror grille inspired by the matrix grille on Bentley's cars.
The Galloway Collection of Bentley Home the art of luxury living:
Indoors, the Galloway Sofa, Bench, and Chaise Longue take center stage. These luxurious pieces feature elegant folds, tapering thicknesses, and smooth, rounded armrests and backrests. They can be customized with various veneers and finishing options, making them a perfect fit for any interior.
Exquisite Finishing Touches:
Bentley Home offers a range of smaller pieces that can elevate any room. The Ryde Ottoman, the first circular pouf in the collection, adds a finishing touch to lounges, bedrooms, or offices. Other stunning pieces include the Murano glass Ramsey lamps, available in various finishes, and the Stirling mirror, which harks back to mid-20th Century artisan glasswork techniques.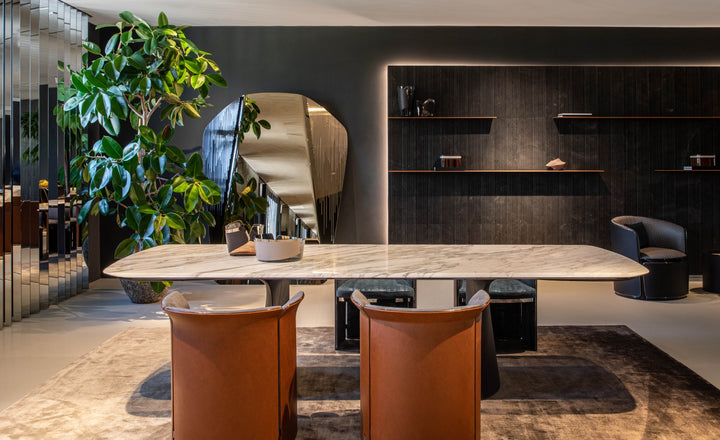 Furnished by Bentley Home the art of luxury living:
For those creating luxury commercial or residential spaces, the "Furnished by Bentley Home" service is a game-changer. It allows you to collaborate with Bentley Home's design team at every stage of your project. From concept to execution, you can select and specify Bentley Home products, ensuring your space is truly unique.
FAQ:
What sets Bentley Home apart from other luxury furniture brands?
Bentley Home stands out due to its collaboration with Bentley's design team, its focus on sustainable materials, and the fusion of artistry and functionality in its pieces.

Can I customize Bentley Home products to suit my preferences?
Yes, Bentley Home offers extensive customization options, allowing you to tailor products to your unique taste.

Is sustainability a priority for Bentley Home?
Absolutely. Bentley Home collaborates with designers who prioritize sustainable materials and craftsmanship techniques.
Conclusion:
Bentley Home redefines elegance and craftsmanship in the world of the art of luxury living. Through collaborations with visionary designers and a commitment to sustainable materials, Bentley Home's 2023 collection showcases the perfect blend of artistry, innovation, and functionality. Whether you're furnishing your home's interior or creating a luxurious outdoor space, Bentley Home offers a range of options to elevate your living experience. Embrace the culture of wellness with Bentley Home, where comfort and relaxation meet the epitome of sophistication.
Also, Read:
Uncovering the Secrets of Interior Design in Dubai: SPC Flooring